Vehicle Management
The vehicle Management page found in Vehicle > Manage Vehicle provides an overview of all the vehicles and their operational statuses. On this page a user can update the details of the existing vehicles and create new ones.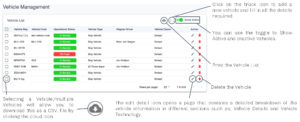 Once you have set up your Vehicle Types, you can start adding your vehicles in Vehicle > Manage Vehicle > Add Vehicle Detail), This will bring you to the Vehicle Form page which is divided into three sections; Vehicle Details, Vehicle Technology and Vehicle Costing (No longer used in this section).
Vehicle Details
This section is where you can add the vehicle registration number, date in fleet, vehicle type and capacity.
Status & Operational status
The Status and Operational Status affects whether or not a Vehicle can be assigned to a driver which will be covered in the Add a User Vehicle Type section.
The Operational Status of a Vehicle can be updated through the App, this can be done during the vehicle checks when any critical defects are found which we will cover in the User App section.
If the vehicle was wrongly set to 'Off Road', the User can change the Operational Status to 'In service' on this page.
Vehicle Profile
The Vehicle Profile holds the vehicle tare weight.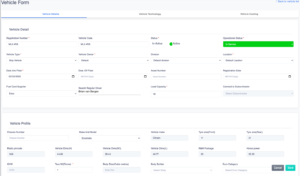 Vehicle Technology
Within this section you can add the Vehicle Technology. You can add the Vehicle details in here including Accessories.
General
You can enter the Telematics Provider, Radio Pincode, CCTV System Provider and Mobile Number.
Accessories
You can select the Vehicle Accessories here both in the Cab and Exterior.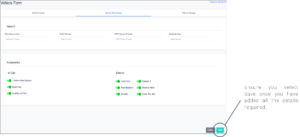 Vehicle Costing
This section is under development.