Overview
fissara's fantastic mobile app for drivers is an easy-to-use digital solution to eliminate paperwork and increase efficiency. From here, the driver can perform vehicle checks and complete their jobs each day from the palm of their hand. Jobs will be shown in order and can only be completed the order that they appear in as this is dictated by the back office staff when booking them out. You can also:
Record wheel torque dates
Record tachograph calibration dates & enter start and finish mileage
View and complete jobs – record job details, capture signatures, images & notes
Downloading the App
Getting the fissara MOVE mobile application onto your personal device is as easy as logging into the Google Play or Apple Store, searching for "fissara MOVE" and hitting download!
Alternatively, you can click the link below to be redirected to the product page:
For iOS please repeat the above steps or click on the following link:
Check-in
Once a driver has been assigned to a vehicle, they can log into the app using their unique login. At first, the driver will be required to complete the vehicle check-in. This step is very important as any defects found in the vehicle will be reported at this stage.
This is how the app will look when opened up on a device by a user. Here you can enter your email and password to login.
Before you sign in, bear in mind that: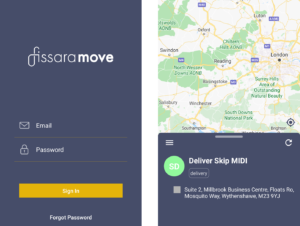 You must assign a vehicle to the user before they will be able to log in and see their jobs
You need to have an internet connection
You must ensure that you always have the most up-to-date version of the app at all times