States are the stages that a ticket moves between in a flow board.
For example, a set of states could be Ticket Reported > Create Job > Print PDF > Complete

Pressing the Add or Edit buttons opens a new box, which can be seen below.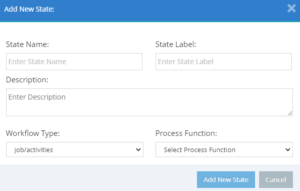 When adding or editing a state you can configure how the state behaves:
State Name – The name of the state as it appears on the flowboard
State Label – A label for the state name
Description – A description for the state name that can be viewed on this tab
Workflow Type – Sets the type of Workflow this will be used in, either job/activities, or fault
Process Function – Varies based on Workflow Type. The functions can be used to generate PDFs, create jobs, open fault/ticket details, or close the ticket within the flowboard.