You will need…
Quick Start Guide Completed
Active Customer
Overview
Customers almost never operate the same as one another, therefore we've added the ability for you to customise your invoice preferences with ease. This section allows you to choose the intervals at which MOVE will automatically send out invoices, which digital documents to include and much more. This page will act as a step-by-step guide on how to manage preferences for your customers.
Solution
In your MOVE environment, expand the Customer menu item by clicking on it
Click on Manage Customer to navigate to the next page
Find the customer you'd like to edit in the table provided, you can filter these results by clicking the Customer Name column title to reveal the search bar
Click on the Edit Customer button (represented by a pencil icon)
Select the Customer Preference tab at the top right of the page to open the following section
Preferences
Frequency – choose whether invoices will be sent daily, weekly or monthly
Invoice Breakdown – how the invoice be broken down when sent
Communication Method – select how invoices will be sent. This can be either automated by MOVE or done manually, allowing you to download the documents and send them yourself
Order Number – is the order number field mandatory for invoices to be sent?
Payment Terms
Choose the invoiceable bank account and enter your payment time/terms.
Invoice Contact & Address
These sections allow you to add the recipients details.
Invoice Attachments
With the invoice attachment section, you can decide which digital documentation will be included with your customer's invoices. These can be added to different job types, for example, when a muck away job is complete, the waste transfer notes will be sent alongside the invoice which provides a very tailored service to each individual customer.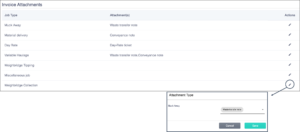 By clicking the pencil icon you can add/change any invoice attachments. You can select an attachment type from the drop down list and Save. To deselect an attachment click on the attachment again and you will notice it is no longer highlights from the list.
The user can add additional contact details for each customer account.
Notes
If no additional customer contacts have been added to the account, the system will automatically:
Send invoices to the main contact, or a specific invoicing contact
Send waste transfer notes to the site contact
Send the quote to whomever the quote is made forOnce you click on the pencil icon to edit the actions, a box will pop-up where you can edit what documentation will be sent to each contact.Customer Management has a close relation to the Quotation page. All existing customers can be located using the quick search engine that fissara MOVE provides. Typing a minimum of

three characters

in the search fields will provide a list of matching results in the system. You can search using Customer name, account number, post code, etc. An alternative way of creating cash customers is by using the Quick Quote functionality, covered in Creating a Quick Quote.