Vehicle Type Management
To add vehicles to Move, first you will need to create Vehicle Types in Vehicle > Manage Vehicle Type.

Vehicles can be grouped by Vehicle Type, e.g. Skip Vehicle, 20 Ton Tipper, etc.
This classification by Type determines the type of jobs each vehicle can carry out and ensures only qualified drivers are assigned to these vehicles.
Load Capacity
When adding a new Vehicle Type it is  important to specify the capacity of each Vehicle. This regulates the Jobs and the driver, dependent on the quantity that the driver is allowed to transport at once.
Trailer Type
The trailers entered in this field are the selection of trailers that the driver will be able to choose from at check in.
Skip Type
Select the Skip Types that each Vehicle can transport.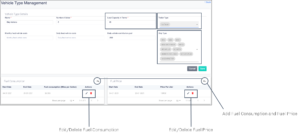 When editing a Fuel Price you will also see the same box pop up where you can edit the fields and Save. When adding a Fuel Consumption a similar box will appear.
You must make sure that the Vehicle Type Details have been entered before you can add a Fuel Consumption.